Wolfpack Athletics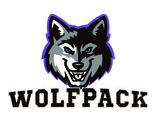 We are part of the Leduc and District Athletic Association, which serves Wetaskiwin Regional Public Schools, Blackgold Public Schools, Star Catholic Schools and the Education Authorities of our First Nations to the south of Wetaskiwin.
This year, Wolfpack athletics is hoping to participate in golf, cross country, volleyball, basketball, badminton and track and field.
ANY QUESTIONS ABOUT WOLFPACK ATHLETICS SHOULD BE DIRECTED TO MR. WHITE.
Girls Volleyball practice regularly during lunch recess and an after school practice on Thursdays 3:20 to 5:00.  Check with your athlete for more details.  Permission slips should be returned ASAP along with team fees. Game schedule is as follows:

Oct 02 @ Pigeon Lake
Oct 09 @ Griffith-Scott
Oct 16 HOST
Oct 23 @ Pigeon Lake
Oct 30 HOST
Nov 06 Host
Nov 20 PLAYOFFS - TBA
Please keep checking back, this page will be updated regularly.
— Updated October 01, 2018 —