Athletics
Wolfpack Athletics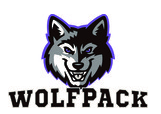 We are part of the Leduc and District Athletic Association, which serves Wetaskiwin Regional Public Schools, Blackgold Public Schools, Star Catholic Schools and the Education Authorities of our First Nations to the south of Wetaskiwin.
This year, Wolfpack athletics is hoping to participate in golf, cross country, volleyball, basketball, badminton and track and field.
ANY QUESTIONS ABOUT WOLFPACK ATHLETICS SHOULD BE DIRECTED TO MR. WHITE.
Girls Volleyball has come to an end.  We are proud of the progress the girls made this season, and I would like to thank their coaches, Ms. Bargholz and Ms. Goodrich, for working with the girls this season.  We wish our grade 8's the best of luck next year at WCHS, and hope to see the grade 6 and 7's next year.
Basketball tryouts are underway.  The next days will be Tuesday, December 11 for the boys and Wednesday, December 12 for the girls.  They take place in the Parkdale gym from 3:30 to 5:00.  We are still longer for girls interested in playing basketball.  If we don't get more there may be no team this year!!!
—- Updated December 06, 2018 —-